About Dr. Foster
Biography
Dr. Foster was born in the United States but has lived in numerous countries (Germany, Tanzania, and the island of Guam) as well as in numerous US states.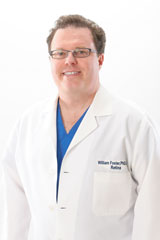 He attended the California Institute of Technology and graduated with honors in Physics. He then went on to graduate school at Harvard University, where he earned both a AM and a PhD in Physics, and focused his efforts upon Biological Physics.
During graduate school, he befriended a number of scientists at Harvard Medical School and became interested in the application of physics to medicine. After a great deal of exploration and soul searching, he decided to attend medical school, to broaden and deepen his knowledge of human biology and also to enjoy the opportunity to serve others with his knowledge.
read more

Why Choose Us
Training, experience, and a focus on the patient
Many patients are uncomfortable with the impersonal and automated nature of medical care today. In my office, I believe that every individual patient deserves my full attention. I will take the time to listen and to offer you treatment options and excellent care, based upon the current scientific literature.
read more
Honors
Academic Appointments
Honorary Adjunct Professor
Department of Bioengineering
Temple University
Principal Investigator and Consultant
Altasciences/Algorithme Pharma
Member
Temple Institute for Regenerative Medicine and Engineering (TIME)
International Organizations
Fellow
The American Academy of Ophthalmology
The Royal College of Surgeons of Canada
Member
The Retina Society
The American Society of Retina Specialists
The Canadian Retina Society
Examiner
The American Board of Ophthalmology
Awards
K08 Career Award
The National Eye Institute
The National Institutes of Health
Prudler AMD Research Grant
The American Retina Foundation
National Academies Keck Futures Initiative Smart Prosthetics Grant
The National Academies Keck Futures Initiative Program
ARVO Travel Grant
The National Eye Institute
The National Institutes of Health
Research Travel Grant
Institute of Biomedical Imaging Sciences
NIH/NHLBI Ruth L. Kirschstein Institutional National Research Service Award
The National Heart, Lung, and Blood Institute
The National Institutes of Health
more honors