William J Foster, MD, PhD
Research Information
1LaboratoryResearch
From Bench to Bedside
Having previously spent years learning how to conduct research, I have retained my passion for research and focus my efforts on critical problems in retinal disease. My primary research program involves understanding how retinal cells change when their environment becomes softer or stiffer than normal. This work, which combines biophysics and bioengineering, has application to retinal prosthetics and stem cells as well as in understanding how the surgical treatments performed during vitreoretinal surgery work. I also conduct research utilizing nanotechnology to improve the delivery to medications to the retina.
click here
2ClinicalResearch
Into Clinical Practice
In order to help bring laboratory findings into common clinical use, and to obtain approval by the US Food & Drug Administration, research on people is essential to demonstrate that new treatments work better than current care. Some patients may choose to become involved in carefully planned clinical studies, where they are randomized to be given either the new treatment or (usually) the best currently available treatment. I have been involved in numerous clinical trials and have also been involved in writing papers for other physicians to read describing the results of these studies.
click here
3ComputationalResearch
Understanding surgery better
Some important problems in retinal surgery can be solved utilizing sophisticated mathematical techniques and advanced computers. As one of only a small number of retinal specialists with advanced training in Physics, I use computational methods to explain how different surgical techniques work and I regularly publish and present this research to other retinal specialists.
click here

Publications
Peer-reviewed Publications
W.J. Foster, W. Tufail, A.M. Issa, "The Quality of Pharmacoeconomic Evaluations of Age-Related Macular Degeneration Therapeutics: A Systematic Review and Quantitative Appraisal of the Evidence", British Journal of Ophthalmology, 94:1118-1126 (2010).
W.J. Foster, N. Dowla, S.Y. Joshi, M. Nikolaou, "The Fluid Mechanics of Scleral Buckling Surgery for the Repair of Retinal Detachment", Graefe's Archive for Clinical and Experimental Ophthalmology, 248(1):31 (2009).
M.C. Hacker, A. Haesslein, H. Ueda, W.J. Foster, C.A. Garcia, D.M. Ammon, R.N. Borazjani, J.F. Kunzler, J.C. Salamone, A.G. Mikos, "Biodegradable Fumarate-Based Drug Delivery Systems for Ophthalmic Applications", Journal of Biomedical Materials Research Part A, 88A:976-989 (2009).
M.S. Ip, S.B. Bressler, A.N. Antoszyk, C.J. Flaxel, J.E. Kim, S.M. Friedman, H. Qin, Diabetic Retinopathy Clinical Research Network Study Group, "A randomized trial comparing intravitreal triamcinolone acetonide and focal/grid photocoagulation for diabetic macular edema: baseline features", Retina. 28:919-930 (2008).
Diabetic Retinopathy Clinical Research Network. "A randomized trial comparing intravitreal triamcinolone acetonide and focal/grid photocoagulation for diabetic macular edema". Ophthalmology. 115:1447-1449, 1449.e1-10. (2008).
W.J. Foster, "Vitreous Substitutes", Expert Reviews in Ophthalmology, 3:211-218 (2008).
read more
Why do I do research?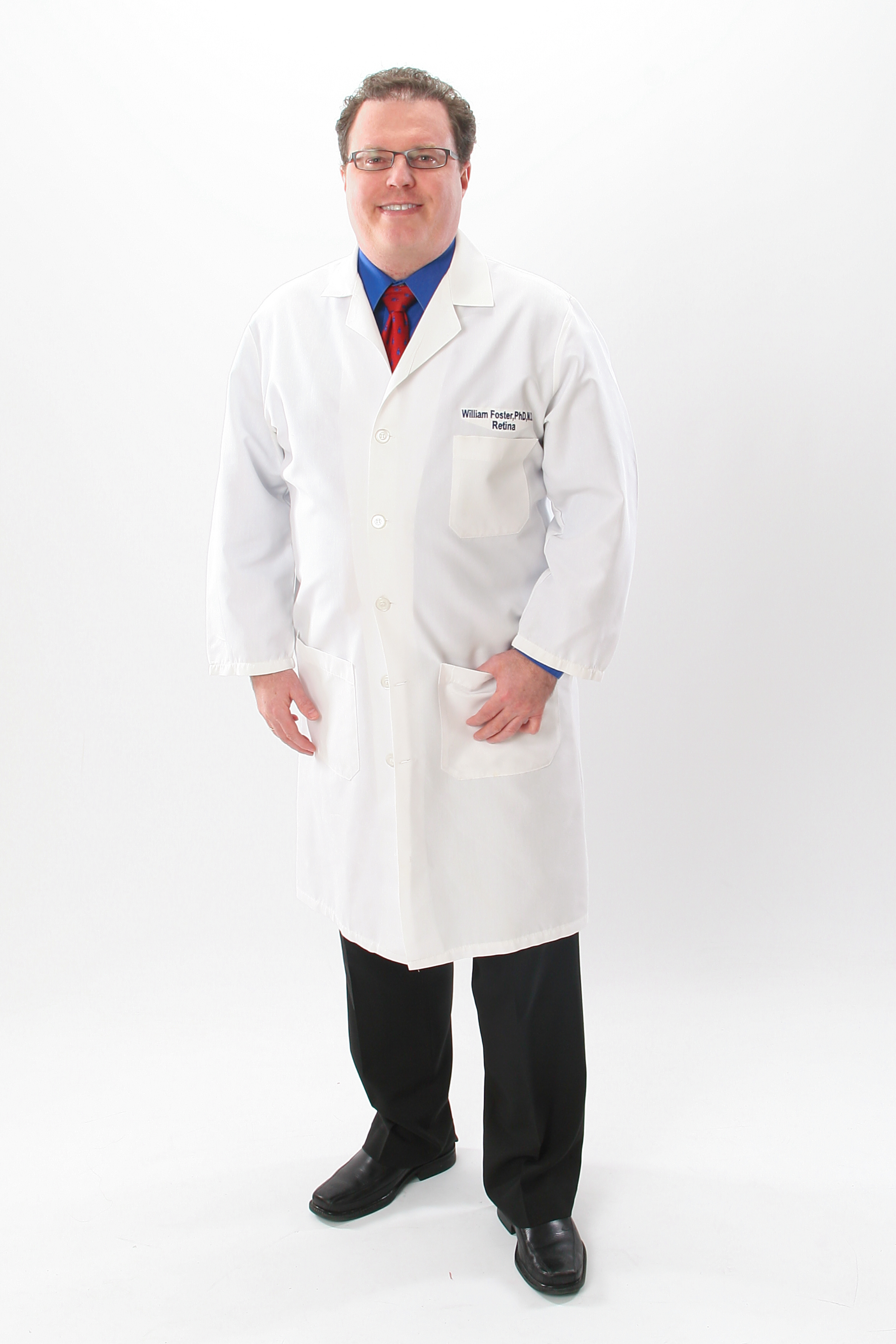 There is so much room for improvement.
Despite progress in developing treatments for a number of retinal conditions, many patients, including a few of my patients, continue to go blind from their retinal conditions. Having obtained extensive training in research at Caltech, Harvard University, Harvard Medical School, and Washington University in St Louis, I am committed to decreasing the number of patients that suffer this fate. Conducting research also makes me think deeply about retinal diseases and keep up to date on the literature. Research thus helps me to provide the best possible care for you.
read more